What We Offer
A platform with a pulse.
Having a comprehensive yet easy-to-use digital platform is critical in co-marketing management. At Cooperate, we believe it's the people—and their complementary practices—that truly maximizes what our clients and their co-marketing partners  get out of a platform. That's the "pulse" beating in our platform. It makes Cooperate unique, and you more effective.
High-Tech + High-Touch = High-Efficiency Results
Meet the Co-op Resource Center
Our advanced, multifaceted digital platform offers an intuitive, seamless co-marketing experience and delivers meaningful results at the local level.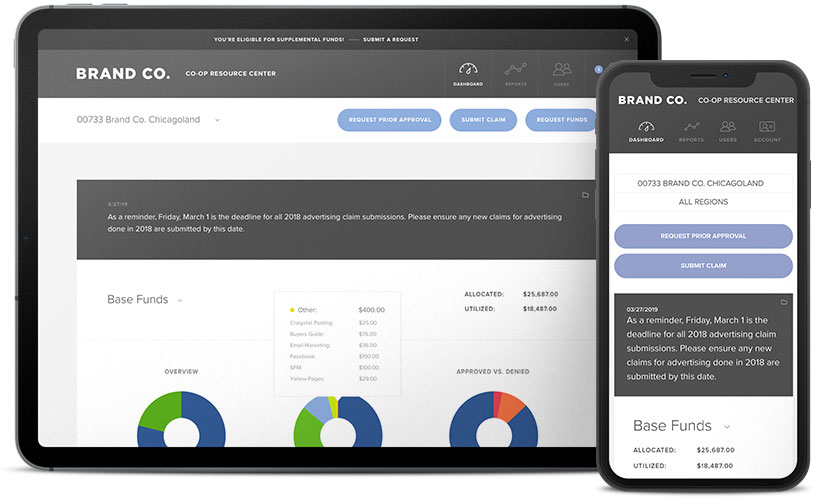 The CRC delivers full transparency and unparalleled access to co-op program managers and participants across end-to-end strategic and administrative functions. Planning to implementation. Pre-approvals to disbursements. Balances to billing. Get up-to-the-minute information, reporting and analysis from any device, any time.
It's backed by an industry-best customer service and support team offering white-glove, concierge-level care plus a host of complementary marketing services. We deliver user experience, customer satisfaction and program result levels unmatched in the marketplace.
Get your free check up today!
Send us a note to learn a little bit more about our co-marketing solutions. Our exclusive multi-point assessment of your current program includes real, actionable steps you can take to improve its performance.
Request a demo today!
The best way to learn about the power of the Co-op Resource Center is to see it in action. Please fill out the form below and we'll be in touch to walk you through how our proprietary through-channel platform can benefit your organization and partners.