The Importance of an Effective Cooperative Marketing Resource Management Tool
The number of people working remotely has increased to its highest level ever and most experts agree that even after COVID-19, working remotely will sustain a significant portion of this increase. This change makes it critical to ensure employees and business partners have the ability to access a centralized communication hub at any time, from anywhere in the world, and on any connected device. In times of volatility, it's important to ensure workflow processes are rigid enough to prevent mishaps but also flexible enough to adapt to change. All too often, cooperative advertising programs tend to be rigid and siloed, making it difficult to manage interworking relationships and respond to workflow adjustments driven by changing social dynamics, like those the pandemic has brought to the forefront. 
Brands that already have a cooperative resource management system in place may often find their channel partners or franchise owners dissatisfied with this tool, usually due to its complexity or limited capabilities (or lack of support or aging infrastructure). Brands without an automated system in place eventually learn manual processing is time-consuming and greatly increases the risk of having incorrect or incomplete information. It is crucial to employ an automated, online process to most effectively manage your cooperative marketing endeavors, and this need will become even more crucial as working remotely permanently becomes more prevalent. To succeed, a strong resource management tool will be mandatory as the centerpiece of your co-op program. Cooperate Marketing's online, mobile-friendly, proprietary software, which we call the "Cooperative Resource Center" or the "CRC", manages the entire process of cooperate advertising programs from:
Creative Asset Development → Prior Approval Requests → Prior Approval Review → Media Run → Claim Submission →
Claim Processing & Audit → Approval or Denial → Reimbursement and Payment → Analytics & Reporting
We have created a customizable cooperative resource management solution that provides easy access and visibility to all program participants, including your marketing team(s) to help review and expedite prior approvals and claims. Administered through a cloud-based online portal, it allows all participants and brand stakeholders to review and manage available funds, apply those funds to local campaigns, and ultimately increase sales via a single, convenient and user-friendly location. These incremental sales drive increased co-op fund allocations the following year, which are utilized for additional local marketing efforts, which lead to even more incremental sales and thus complete the cycle.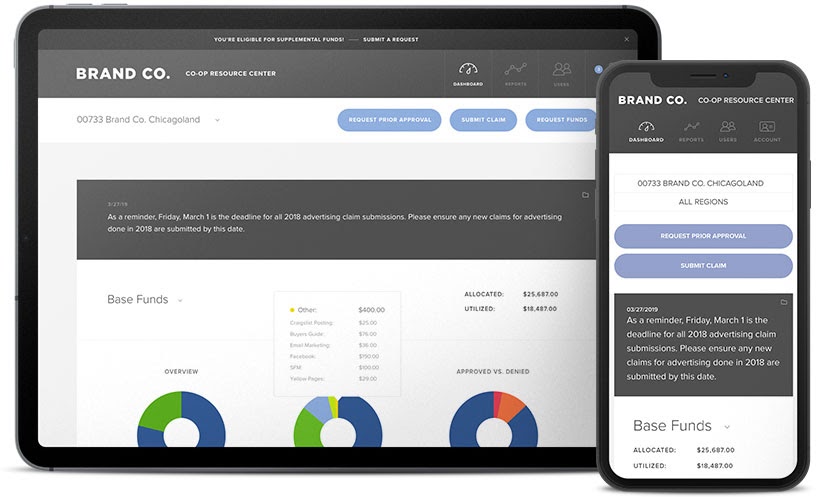 A cooperative resource management tool, like our CRC, organizes and streamlines all co-op program details and provides a centralized hub to comprehensively manage your entire cooperative marketing program. This includes co-op fund balances, submissions, approvals / denials, reconciliation, and disbursements. Without a resource like this in place to manage your channel partner and program participants' efforts, it becomes increasingly time-consuming and difficult to manage the two-way communication needed to keep track of all program details. 
Why? Brands invariably assign cooperative program management to individuals in addition to their existing day-to-day responsibilities; in other words, on top of their "day job". Additionally, franchisees or dealers are small business owners focused on running a successful operation, not strategic planners, media buyers, creative directors or advertising experts. Yet most brands' place the onus of developing strategically sound, targeted and creatively impactful co-op marketing plans and communications on their channel partners. At the same time, brands all too often focus their internal cooperative manager (who often has direct knowledge of the brand's overall strategic, targeting, media and creative communication priorities) on compliance and reimbursement. This widespread approach significantly limits the sales- and brand-building opportunity a co-op advertising program represents.
Replacing this archaic system with an effective cooperative program management tool significantly increases the program's potential by allowing you to:
Increase Participation
Simple, user-friendly access will increase interest in and incidence of participation: Offering an online, mobile-friendly, intuitive resource with a modern UX design allows program participants to more easily be aware of available funds and claim data. Providing a way for franchise owners to communicate directly with those running the co-op program will help them leverage opportunities to accrue marketing and advertising funds even better.
Provide Effective Local-Market Media Options
Participants are business owners, not media experts, and default to media "they consume" versus what effectively reaches your target: To minimize waste and ensure effective reach for local cooperative media investments, it's important to have a means of aggregating all available creative and media options as well as a solution enabling dealers to opt-in to local market media buys they may not have the time or knowledge to source.. 
Ensure Consistent Brand Messaging 
Brand consistency is key to brand success, but participants aren't communication experts and create inconsistency by putting their creative "spin" on messaging: A centralized platform offers the network immediate access to brand resources, enabling greater brand compliance at the local level. Creative assets, brand guidelines, and all compliance documents can be provided through digital asset management technology. Access to this content for local media messaging builds a consistent voice for your brand, and allows for a comprehensive audit of cooperative media creative (both brand- and franchisee-created) to ensure brand guidelines are met, providing greater control and monitoring of co-op fund usage, as well as transparency of feedback for channel partners.
Access solution-oriented brand specialists 
A customer-facing platform, and overall cooperative program for that matter, is only as good as the people who help to support it, and you've still got your day job: It's imperative you provide channel partners the resources to motivate, educate and navigate your co-op program for optimal results and ROI. Assuming your plate is already full (and a significant increase in daily calls, texts and emails doesn't excite you), you'll need access to trained program specialists who act as liaisons between sales, marketing, and local program participants. Specialists who: 
Provide timely, day-to-day administration and management

Offer program analytics at a moment's notice

Respond to and resolve individual participant's questions or needs

Proactively encourage greater participation in and utilization of the program
Done right, this will significantly improve all measures of your program's success, from participation to compliance to user experience and satisfaction, and ultimately lead to greater short-term ROI and stronger partnerships in the long term.
In short, an effective co-op program management tool is the single-biggest requirement for running a successful cooperative advertising program in today's ever-changing environment. It optimizes near-term results and provides a critical foundation for strengthening BOTH your brand and partnerships, no matter what conditions, challenges or crises arise in the coming years. 
Don't let your cooperative marketing program be limited by manual, outdated processes that do not reflect or meet the needs of the current marketplace. Leverage the benefits of a cooperative program management tool to dramatically improve program performance, without adding more demands to your already-busy schedule. Contact Lora Dircz today for a complimentary Co-op Checkup™ which will provide additional insight into how you can get more out of your cooperative program.
---
ABOUT THE AUTHOR
Ryan Parker is a Senior Account Executive at Cooperate Marketing. Ryan has 5 years of Marketing and Advertising experience and has earned a BA in Entrepreneurship & Corp. Innovation, as well as Marketing from the Kelley School of Business at Indiana University. After helping to support Cooperate's social pages and new business growth, Ryan enjoys writing music.
LinkedIn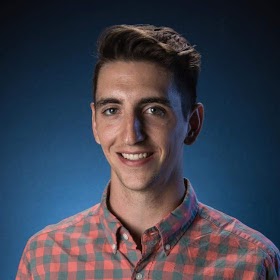 Get your free check up today!
Send us a note to learn a little bit more about our co-marketing solutions. Our exclusive multi-point assessment of your current program includes real, actionable steps you can take to improve its performance.